How My Bachelor's in Writing Didn't Prepare Me for Writerhood
Even after getting our educations -- whether that's at the collegiate level or simply through life experience and trial-and-error -- we writers still have to do our homework. We have to research for our business.
"Anyone who stops learning is old, whether at twenty or eighty."

~Henry Ford
In December 1999, I graduated from college with a bachelor's degree in English/Writing and thought I knew everything I needed to know about writing books.
…
Why, yes — I am waiting for your laughter to subside.
Okay, okay, calm yourselves, please. What do you think this is, a late-night comedy club?
Sheesh.
😉
Idealist Writer Changes World — Details at 11
So. Here I am, 22 years old with all of three-and-a-half years of higher education under my belt. I'm off to former East Germany as soon as possible. I shall change the world one relationship at a time and write books while I do it. I am Tawanda, Queen of the Amazons. Hear me roar.
For my senior project, I'd completed a Monster Epic Fantasy Novel (aka MEFaN), which I've previously mentioned here. My profs approved it. Their praise wasn't exactly glowing, but it was shiny, at least. I thought my novel was ready to shop to publishers.
Um. No.
If you click through, you'll see that the MEFaN in question was a first draft. I'd heard my creative writing prof mention such hideous things as re-write and edit and multiple drafts —
— but I was 22 and brilliant. What need I with multiple drafts?
*sigh*
Ow, My Aching Ego
I learned. I learned that I was good for a 22-year-old straight outta college. I learned that I was not as good as what editing, rewriting, and plain ol' life experience could make me. I learned that my profs' shiny-almost-glowing praise was for how far I'd come by then.
But good grades, I finally realized, were not the final measurement of my skills. I realized that my writing degree was my starting point. My writing degree prepared me to begin.
And I've spent the last 14 years doing the work.
But here's what my degree did not prepare me for.
Money, Money, Money
As part of my general education in college, I was required to take an economics class. I ended up in a course called Free Enterprise System.
Sadly, this had nothing to do with liberated starships.
Sadly, I learned exactly two things in this course:
Eli Whitney invented the cotton gin. Booya.
When one member of the project team doesn't do his job, the economics prof doesn't care that the rest of the team does theirs. Everybody gets penalized a letter grade because of the one lazy slob.
Yay teamwork! I love teamwork!
Also sadly, I was not required to take any courses in personal finance (i.e. how-to-budget, etc.) or in finances for writers.
So, years later, when the husband and I got into serious trouble over self-employment taxes, my reaction was as follows: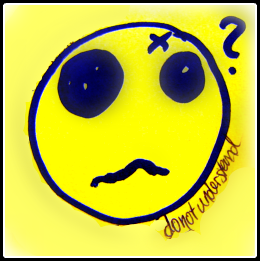 Doing Homework
Let me be clear: I blame no one for this but myself.
I shoulda done my homework. After all, there is such a thing as thinking for oneself.
In the meantime, I've figured things out a little. I now understand things about withholding. I now understand that calculating my taxes myself is a rather dumb thing for me to do (especially when my info conflicts with that of the IRS). I now know to keep track of expenses like the ones listed in this article.
The business-sensible thing for me to do with this post would be to provide you with a list of such resources as that one. But I'm not writing this to be business-sensible.
I'm writing this to emphasize that even after getting our educations — whether that's at the collegiate level or simply through life experience and trial-and-error — we writers still have to do our homework.
Yeah, we gotta research stuff for our writing. We read novels, articles, and papers. We drive to remote locations to get the feel and flavor of a place or to take pictures for cover art. We interview people. We visit museums. We sit in coffee shops, pondering and muttering to ourselves.
But we also have to research for our business.
It might be the most important thing I've learned about writing since graduation:
Writing is a business.

And the writer is CEO, VP, treasurer, secretary, and go-fer.

And this is every writer. Not just the self-published ones.
Writers, we must learn to think of ourselves this way.
If somebody had taught me this in college and forced me to sit down and learn the non-creative, non-artsy, non-inspiring, soul-sucking side of writing, it could've saved me a lot of trouble. And a lot of heartache.
So, do your homework, writers. Nobody's gonna make you learn this stuff. You've gotta take responsibility (do as I say, not as I do) and do your research.
And for the love of all that's good, true, and writerly in this world, keep track of your gas mileage.
__________________________
What financial education did you get along the way?
What's been your experience with self-employment?
What's been your experience thinking of yourself as a business — or not thinking of yourself that way?
If you're more into the business side than the creative writing side, what one thing do you think writers need to be aware of?