5 Things They Don't Tell You About Being a New Momma
Greetings, my beloved inklings!
It's been a while since you've heard from me here. I mean, yeah, I've been posting something every week or so, but those recent posts haven't had a lot of meat to them. I know. What can I say? The reason for my silence is also the originator of this post's subject matter. Here's your bonus round before I even get to my five points:
Babies require many, many items.

Babies require much, much time.
So there ya have it.
Plus, I've been working on posts for writing advice site Unstressed Syllables, as well as mentoring Josh through his latest novel. (It's a Weird Western: cowboys, Pinkertons, vengeful ghosts, and demons.) These are excellent endeavors for me to be involved in, but they have caused my own writing to suffer from neglect.
Balance: It's difficult to achieve when you're a new momma. And there's another bonus point for you.
So! On to the "5 Things" I originally sat down to tell you about today. ; )
5 Things They Don't Tell You About Being a New Momma
1.  It can really, really hurt.
Once upon a time when I was 8 or 9 years old, it was summertime and my parents and I were at the grandparents' house for our annual visit. My cousins, Amanda and Jonathan, and I were jumping on Grandma's unfolded sofa-bed, launching ourselves up and dropping down on our butts.
As it turns out, this was quite the poor choice on my part. I jumped up, dropped down, and landed tailbone first on the metal rod running beneath the mattress. Said mattress did not provide an adequate cushion for my posterior. All I remember after that is running through the house, screaming for my mother.
Three weeks after that, while visiting the other set of grandparents, I re-injured the aforementioned tailbone by falling off a horse.
Fast-forward 26 or 27 years, and I'm in the hospital, about to push something the size of a small watermelon out of something the diameter of a shooter marble. When my doctor tells me to, I give my first big push. And from somewhere in my nether regions, there comes a loud pop!
"Well," says I, "that was fun."
My doctor gives me a look, and I can see her thinking, You have no idea what just happened.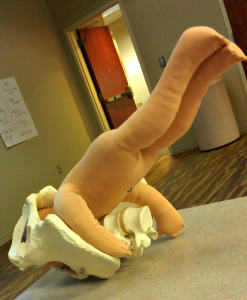 She was right. I had no idea. I thought that pop was simply the sound of my back popping, which is something it does from time to time.
But no. That pop was the sound of my tailbone fracturing.
I am thankful beyond words that I'd asked for that epidural not quite three hours before.
Nobody told me this could happen.
Apparently, fracturing one's tailbone during childbirth is not terribly uncommon. It can happen if the baby is unusually big. At 6 lbs 12 oz, my baby was not unusually big.
Fracturing one's tailbone during childbirth can also happen if there has been a prior injury to the tailbone. Sometimes, one has quite a bit of cause for regretting the foolishness of one's youth.
I spent the first two months of my daughter's life sitting on a Boppy and taking 600mg of ibuprofen every six hours. For the first month, someone had to be with me constantly, because I couldn't sit down or stand up without using both hands to lower or raise myself. Someone else had to hold the baby while I maneuvered.
Also — and here's some TMI for you, so read this part at your own risk — I was on Percocet for four days after delivery. Nobody told me that Percocet can cause severe constipation.
Percocet + (fractured tailbone) = bad

Really, really bad.
When my baby was four days old, I spent 4 hours at the emergency room getting an enema. Lemme tell ya, folks, you haven't lived until you've had an attractive young nurse pump a tubeful of soapsuds up your rear.
Side note: This took place a day after my first postpartum ER visit. That one was for unusually severe swelling in my feet and legs. They did ultrasounds on my legs. Fortunately, I didn't have bloodclots. I just couldn't elevate my feet properly because of the tailbone pain*.
Nobody told me that could happen, either.
2. You have never known this level of tired. Not even in college.
I'm a lifelong nightowl. I knew that caring for a newborn would involve sleep deprivation. But I've pulled my share of all-nighters; I thought I could handle it.
Nuh-uh. Y'all, there is no handling this. United States Government, please don't ever trust me with state secrets. 'Cause if the terrorists get hold of me, all they'll have to do is deprive me of sleep for a few days, and I'll be singin' like a drunk canary in a honky-tonk.
Seriously. The first three months, the longest I ever slept in one stretch was 4.5 hours. Most of the time, I averaged 2.5 hours between feedings. Itty Bitty is now 4 months 3 weeks old, and since she was born, I have gotten 8 hours of sleep exactly once. There have been times that I was so tired, I just sat loose-limbed in a chair and sobbed.
During her first month, I had hallucinations. Hallucinations, people.
Nobody told me that could happen.
3. Projectile poop is the new black. (Everybody's wearing it.)
I read about projectile vomiting. I read about poopy diaper explosions. I read about getting peed on while changing a diaper. (Yes, even little girls can sometimes produce a "fountain.")
But nobody told me that when you lift up the baby's legs to wipe her and she turns red in the face and pushes, green liquid can squirt out her butt and up over your shoulder and land on the white carpet three feet behind you. And, if you don't learn your lesson, she'll do it again several days later. But this time, it will splatter you from chin to knees.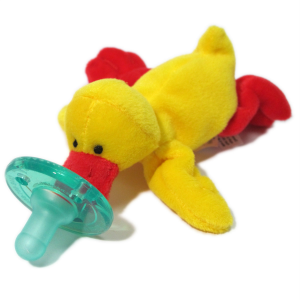 4. Your baby might not, in fact, take a pacifier.
Our Itty Bitty will take a pacifier. In fact, as far as she's concerned, the pacifier is one of her best friends. The problem is that most of the time, she can't hold it in her mouth by herself.
I don't know why this is. Something about developmental stage or sucking method or the alignment of the planets. Whatever it is, most of the time she ain't got it. And if we want her to stay asleep after we've put her to bed, one of us usually has to hang out with her for about half an hour, holding the pacifier in her mouth until she falls deeply enough asleep not to notice when it plops out of her mouth.
"One does not simply hold the pacifier."

— the Baby
We've even tried this cute thing called a "Wubbanub": a little stuffed toy that is supposed to help baby grasp a pacifier and keep it in her mouth. It's a great idea and looks really cute and doesn't work with our baby at all. She just uses the ducky to pull the pacifier out of her mouth again. So we play the now-infamous Pacifier Game with her and hope that Mars, Jupiter, and Uranus line up properly so that we're not still doing this when she's 18.
Nobody told me this could happen.
5. The first three months are really, really hard.
Nobody told me this.
And if they had, I probably wouldn't have listened.
But I still wish they had.
Instead, all I heard was how wonderful and rewarding motherhood is and how cute and cuddly the babies are.
Well, I'm gonna tell it to you straight. Yes, motherhood is wonderful and rewarding. Yes, the baby is cuddly and cute. In fact o'bidness, as Grandpa would say, I think she's pretty much the most beautiful person on the face of this planet. I wouldn't trade being her mother for anything.
But.
And please forgive my language, but this is how strong this truth is.
Motherhood during the first 3-4 months is damn hard.
All of those women who portray it as rainbows-glitter-sunshine-unicorns-blue-skies? I'm not saying they're lying. I'm not even saying they're misremembering.
But I am suspicious.
This is hard, y'all. And I'm not going to pretend that it isn't. I still sometimes sob because I'm so desperate for sleep. Especially during the past week, when my baby has had her second ear infection and needed my constant attention, I've longed to fast-forward to when she can talk and tell me where it hurts, never mind that I'd be missing all the supermurgitroid developments in between. The husband and I are still trying to figure out how to be parents and how to be a married couple at the same time. I used to have a relatively organized house, but now it looks like I'm running a daycare that has never once seen a vacuum or the folding of laundry. I still can't shower regularly. "Alone time" happens only if I give up sleep to get it. (I'm doing this right now.)
I haven't even talked about the feeling of inadequacy. My daughter deserves a rested, put-together, patient, on-top-of-things, well-relating mother. I'm not so unrealistic as to feel guilty that I'm not Supermom. But feeling inadequate definitely happens a lot.
Month 4 is definitely easier than Months 1-3. But rough patches still happen. And though I know life will continue to get more manageable, if not easier, I also know that rough patches will continue to happen.
________________
If I were a Pez dispenser and you were a momma-to-be or wanting to be a momma-to-be, I'd give you some advice. But I'm not a dispenser. All I have to offer are these truths that nobody told me. They are my truths. Whether or not they apply to you, I don't know. But there they are for you to do with what you will.
In the meantime, pray for my sanity. ; )
*By the way, I've been in physical therapy for the fractured tailbone for two months. My recovery is progressing nicely. The pain level has dropped from 8-10 to a comfortable 0-2 range. The therapy itself is called "osteopathic therapy," and as far as I'm concerned, it's brilliant.